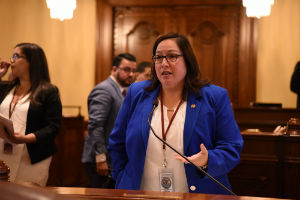 ELGIN – Several pieces of legislation that will create a more welcoming Illinois were signed into law today. Elgin Democrat State Senator Cristina Castro released the following statement:
"With the recent racist rhetoric from President Trump toward immigrants, I am proud that here in Illinois we are doing what we can to be the most welcoming. People in our communities are living in fear due to the scare tactics used by Trump's Administration and it isn't right. Illinois is made up of so many different cultures and people from across the world, and this legislation is a message to them that we have their backs."
Three pieces of legislation signed into law today:
House Bill 2691 creates the RISE Act, which provides access to financial aid for undocumented students.
House Bill 2040 prohibits the state from entering into contracts for private immigration detention centers.
House Bill 1637 creates the Keep Illinois Families Together Act, which prohibits local law enforcement officers from entering into agreements with ICE and acting as deputized ICE agents.
Category: News