SPRINGFIELD – Senator Cristina Cas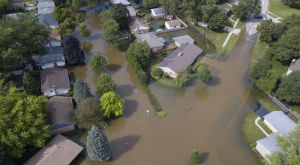 tro (D-Elgin) is helping victims of July's floods recover and repair property damage.

Senate Bill 403, which Castro co-sponsored, allows a natural disaster income tax credit for damages up to $750 for property owners in counties where a major disaster was declared in July.

"Individuals affected by the July floods are still waiting on money to rebuild their homes," Castro said. "I'm not only here to represent the people of my communities, but to protect them as well."

Anyone claiming the tax credit must be an owner of the property or business and must have reported the damage to the appropriate authority along with IEMA or FEMA, or applied for disaster relief from FEMA.

The owner is not entitled to a credit if they received reimbursement from an insurance company.

The measure applies to the following counties: Lake, McHenry, Kane, Cook, Carroll, Henry, Jo Daviess, Lee, Ogle, Rock Island, Stephenson and Whiteside.

Senate Bill 403 was passed by the Senate with bipartisan support and moves to the House for consideration.