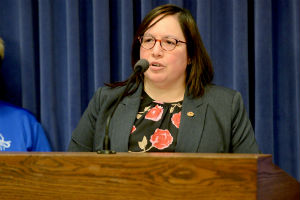 SPRINGFIELD – The State of Illinois currently does not have a limit on how many patients are assigned to registered nurses at one time, creating an unrealistic workload, but State Senator Cristina Castro (D-Elgin) is working to change that.
Castro's measure would create the Safe Patient Limits Act, setting a cap on how many patients can be assigned to a registered nurse in specified situations. This would allow Rn's a lighter workload, which would give them more time with their assigned patients.
"This doesn't just relieve the workload for RNs," Castro said. "It's also safer for the patients and allows the RNs to give them the quality care they deserve."
Senate Bill 1908 has been assigned to the Senate Public Health Committee.
Category: News