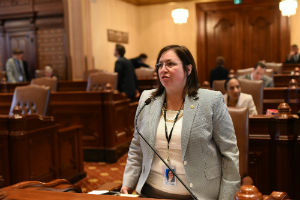 SPRINGFIELD – State Senator Cristina Castro (D-Elgin) voted for a bill Wednesday that would legalize and regulate adult-use cannabis in Illinois.
House Bill 1438 also gives local governments control and allows for the expungement of minor cannabis offenses.
"Cannabis has been over criminalized for decades and, under this measure, thousands of low-level cannabis convictions would be expunged," Castro said. "I am proud to support legislation that addresses the underlying concerns and injustices that have been occurring for far too long."
This measure would also give local governments the ability to limit or prevent cannabis businesses in their communities. They would also be given the authority to enact ordinances allowing public consumption.
"Allowing municipalities to choose what is best for their communities in regards to legal cannabis is the right thing to do," Castro said. "Each community is different and should be allowed to do what is best for them."
House Bill 1438 passed the Senate and will now move to the House for consideration.
Category: News