Published: 24 September 2018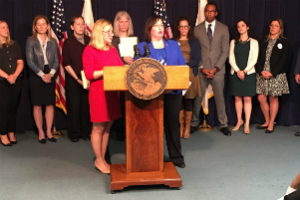 SPRINGFIELD – State Senator Cristina Castro met with colleagues today urging for an override of Gov. Bruce Rauner's veto of a bill she sponsored to address Illinois' gender wage gap in Illinois and protect working women.
Had it become law, House Bill 4163 would have banned employers from asking prospective new employees about their salary history. This would ensure wages were based on experience rather than the employee's history.
"It's a vicious cycle," said Castro, an Elgin Democrat. "If a woman is unfairly paid a lower wage at one job, and that unfair wage can be used to determine her wage at her next job, then she might never be able to earn the wage she is duly deserved."
Despite making up nearly half the work force in Illinois, women on average are paid only 79 cents for every dollar earned by men in similar occupational roles. The disparity is even larger among women of color, with black women earning 63 cents to the dollar and Hispanic and Latina women earning only 48.
"Working class families in Illinois are already struggling," said Castro. "It only makes matters worse when women are denied wages they deserve. All this bill does is help protect working class women in this state from undue financial hardship, so I'm having a hard time understanding why Gov. Rauner opposed it."
The bill would also have given victims of unfair or gender-based wage discrepancies a method to seek compensation, including the recovery of lost wages, punitive damages and reimbursement of legal fees.
"Similar measures have been proposed, but none of them give women the ability to seek justice for unfair practices used against them," said Castro. "That makes those laws unenforceable. This bill would have been an enforceable law meant to ensure that women in Illinois are paid what they ought to be fairly paid."
Castro intends to file a motion to override during the fall Veto Session.
Category: News