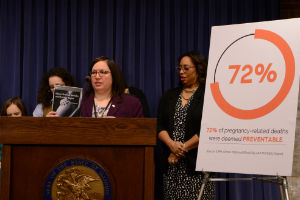 SPRINGFIELD – While rates of maternal mortality are declining in other developed countries, the United States is experiencing a spike in deaths among pregnant and recently pregnant women and a wide and growing disparity among women based on their race and ethnicity.
State Senators Toi Hutchinson (D-Chicago Heights) and Cristina Castro (D-Elgin) joined with advocates in Springfield this afternoon to discuss a comprehensive package of proposals to address the growing public health concern.
"Just because the pregnancy goes smoothly doesn't mean the mother won't have complications afterward," Castro said. "We are careful to examine newborns and their progress after birth, so why shouldn't we do the same for mothers?"
Senator Castro has introduced a plan that would address the lack of services experienced by many new mothers.
Senate Bill 1909 would create a pilot program to provide voluntary in-home nursing visits to low-income, first-time pregnant women; mandate quality control guidelines and hemorrhage protocols for birthing facilities; mandate insurance plans to cover medically necessary treatment for postpartum complications; and expand Medicaid coverage to continue for women during pregnancy and during the 12-month period post-birth.
Hutchinson's proposal, contained in Senate Bill 132, would require the state to add into continuing education requirements for doctors and nurses training on implicit bias, which is defined as the unconscious attitudes or stereotypes that can affect behaviors, decisions and actions in the treatment of women and minority groups.
"We spend a lot of political capital and time in our reproductive discussion talking about babies," Hutchinson said. "We spend precious little time on the unique needs of mothers, both before, during and after childbirth. This is an opportunity all across that political conversation to come together and say that we need to be doing all we can for women and their health care needs in the critical time after a baby is born and in that first year."
A study released by the Illinois Department of Public Health late last year found that non-Hispanic Black women are six times as likely to die of a pregnancy related condition as non-Hispanic White women. The study also found that Black women have the highest rate of severe maternal morbidity, three times higher than the rate for White women.
Both Senate Bills 1909 and 132 were recently introduced in the Senate. Senate Bill 1909 has been assigned to the Senate Public Health Committee and Senate Bill 132 has been assigned to the Senate Licensed Activities Committee.