Published: 09 November 2017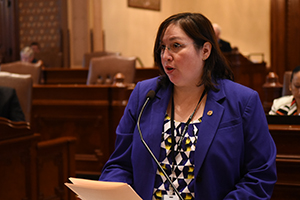 SPRINGFIELD – Senator Cristina Castro (D-Elgin) isn't afraid of tackling the big problems our state government is facing. Being one of the newest Senators and recently appointed to the Legislative Ethics Commission, she is hoping to bring fresh ideas break the code of silence that has gone on too long.

Senate Bill 402, which passed this week and was co-sponsored by Castro, amends the State Officials and Employees Ethics Act by putting penalties in place for sexual harassment and provide training for sexual harassment prevention. This training will be required annually and the Legislative Ethics Commission will be responsible for sharing the procedure on reporting violations.
Category: News