Published: 24 October 2017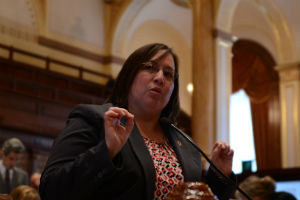 SPRINGFIELD – To protect collective bargaining, State Senator Cristina Castro (D-Elgin) joined the Illinois Senate to override the governor's veto of Senate Bill 1905.
Senate Bill 1905, which is sponsored by Castro, protects Illinois workers by prohibiting local governments from enacting harmful "right-to-work" laws. Right-to-work laws have been shown to weaken collective negotiations for fair wages, safe work environments and competitive benefits.
"I am happy to see that my colleagues helped protect the people of Illinois by working together to defeat Governor Rauner's corporate agenda," said Castro. "We can't let companies profit at the expense of our workers."
Senate Bill 1905 was overridden by the Senate with bipartisan support and moves to the House for reconsideration.
Category: News